DAY DREAM BELIEVER
Alejandra Simonetta DELIVERS AWE-INSPIRING DESIGNS.
"I'm a dreamer," says Alejandra Simonetta. The Argentinian footwear designer creates conceptual pieces that defy the imagination. Winner of the 2014 Cordwainers Dato's Jimmy Choo award, Simonetta completed her Master's degree in Fashion Footwear at the London College of Fashion. "I get my inspiration from everything that has an impact on my memory," says Simonetta. "I think I became a designer because it was a way for me to translate this into an object."
Having completed a BA in Fashion and Textile Design in her native Argentina, Simonetta realized she was not fully satisfied with her choice of career. She decided to do a short shoe design course and the rest, as they say, is history. She had found her passion.
Simonetta's unique design elements are a combination of imagination and materials as she searches for unexpected textures to create architectural detail. "I like to use wood, thermoplastics, metals and leather," says Simonetta when asked about her design process. "I really enjoy working with materials which are unconventional for shoes. I like to incorporate new materials so that I can gain new skills while working with them. For example, for the project External Bones, a thermoplastic was used and covered with plaster for a porcelain bone look. This mixture of materials is something that I love to play with."
For Simonetta delivering unexpected designs that push the boundaries of traditional footwear, is paramount to her design philosophy. Innovative materials and innovative thinking are two of the main ingredients in any Alejandra Simonetta piece.
Now based in London, this emerging designer is definitely one to watch. Who knows where these heels will take her or us... SimonettaAlejandra.com — JULIA STUART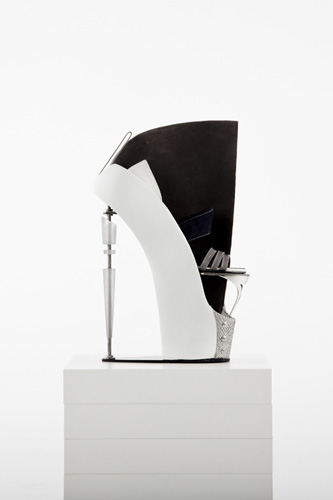 CLICK FOR MORE AMAZING accessory designers...