HUNGER GAMES
FOOD-MEETS-FASHION IN THE colorful world of ROMMY DEBOMMY.
For Rommy Debommy there is no such thing as "too much." The designer's quest for over-the-top accessories led her to create her own line, inspired by everyday items. "I have always have been a person who needs to make things with my hands, I like to feel different kinds of materials and work three-dimensionally," says the Dutch designer. "I started my own line of accessories to show that everything is possible."
While studying Spatial Design, Debommy quickly realized that her greatest opportunity for learning would be "on-the-job." When she found herself working on her own designs and fashion blog— instead of a school assignment—she knew she had to make a decision. Deciding to pursue her passion she says is one of the best decisions she ever made.
From French Fry necklaces to Fried Egg handbags, Debommy sees potential accessories everywhere. Her greatest challenge is finding the time to bring them all to life.
You will often find her in the grocery store—most likely in the candy department—studying the different textures, colors and shapes, an ongoing source of inspiration. "Food is so beautiful!" she says. "The fact that it disappears in your stomach is such a shame. My accessories make is possible to enjoy your favorite food for the rest of your life without it ever going moldy."
People watching is another favorite past time, an activity that allows Debommy to scrutinize the practical applications of everyday items. "A man walking around with a rolled up newspaper under his arm can be inspiration for a new clutch for me," she explains. "My designs are full of energy, a complete color explosion with a sense of humor. I like to look at products in a different way, and go against the rules, because that will create a unique product."
Within a short period of time, Debommy has found a loyal following thanks to Online sites such as Etsy. The well-known e-commerce site gives her designs a worldwide platform while her home base of Rotterdam in The Netherlands, continues to foster her entrepreneurial spirit.
"In terms of architecture and inventions, Rotterdam is much more developed than other cities in Netherlands, which I can compare with my own designs. It's a place that has risen like a phoenix from the ashes after being flattened during World War II," explains Debommy. "The city is very entrepreneurial and the active, progressive mentality inspires me very much."
As an independent designer, Debommy knows that hard work is the keystone to any start-up success. It's something she is no stranger to. With an eye for design and a unique look at the world in which we live, expect to see more unique Rommy Debommy designs taking over the world one accessory at a time. RommyDebommy.com — JULIA STUART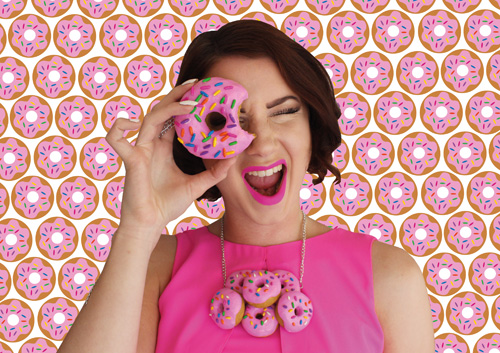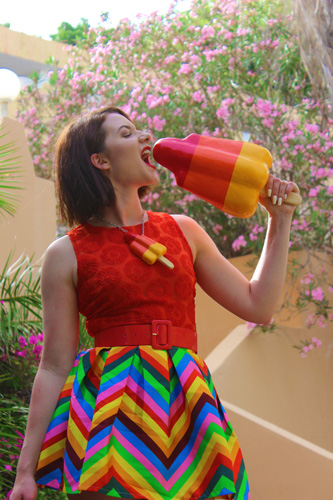 WANT MORE AMAZING DESIGN? CHECK OUT THESE EXCLUSIVE DESIGNER INTERVIEWS...
It began as a student design project, but the unique aesthetic of Termite Eyewear soon found its way onto the accessories market—and into our hearts. Created by designers Natalie Finch and Patricia Williams, the pair champion British manufacturing and sustainable fashion with their recycled wood, hand-worked creations.